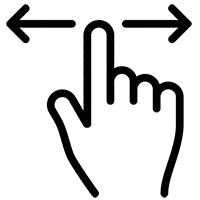 Compare Models

Alight DD Disc 1

View bike

Alight DD Disc 2

View bike

Alight DD Disc 3

View bike

Wheels

Giant GX Disc wheelset
Giant GX Disc wheelset
Giant GX Disc wheelset

Shifters

Shimano Altus, 2x9
Shimano Altus, 2x8
Shimano Tourney, 3x7

Crankset

Shimano MT-210, 30/46 XS:170mm, S:170mm, M:170mm, L:170mm
Shimano TY-501, 30/46 XS:170mm, S:170mm, M:170mm, L:170mm
ProWheel TY-CQ99, 28/38/48 XS:165mm, S:165mm, M:170mm, L:172.5mm

Fork

Advanced-Grade Composite, composite steerer, disc
Alloy, rack mount, disc
High-tensile steel, rack mount, disc

Colours

Dark Grey
Purple Ash
Pistachio
ALUXX-Grade Aluminum Frame
This performance level frame material features 6061 alloy with single-butted tubes to produce a strong, lightweight frame.
Double Diamond Frame
Compact road design provides a lighter, stiffer bike.
Flat Bar Positioning
Frame geometry is specifically engineered to produce a balanced feel that blends "heads-up" flat-bar positioning with fitness and road acceleration.
D-Fuse Seatpost
The proprietary seatpost with a "D" shaped cross section damps vibration, resulting in a smooth, compliant ride.
Disc Brake Integration
The frame and fork are engineered with flat-mount disc-brakes that deliver powerful, consistent braking performance in all conditions.
Rack, Fender and Kickstand Mounts
The integrated mounts make it easy to customize with bags and accessories for commuting, touring or weekend adventures.
Puncture-Resistant Tires
Reduces your risk of getting a flat tire from a puncture.
Tire Clearance
Increased clearance allows for up to a 40c tire for better traction.
Reflective Decals
Reflective decals allow for increased visibility on your low-light adventures.